10 Ways to Respond When You've Been "Ghosted."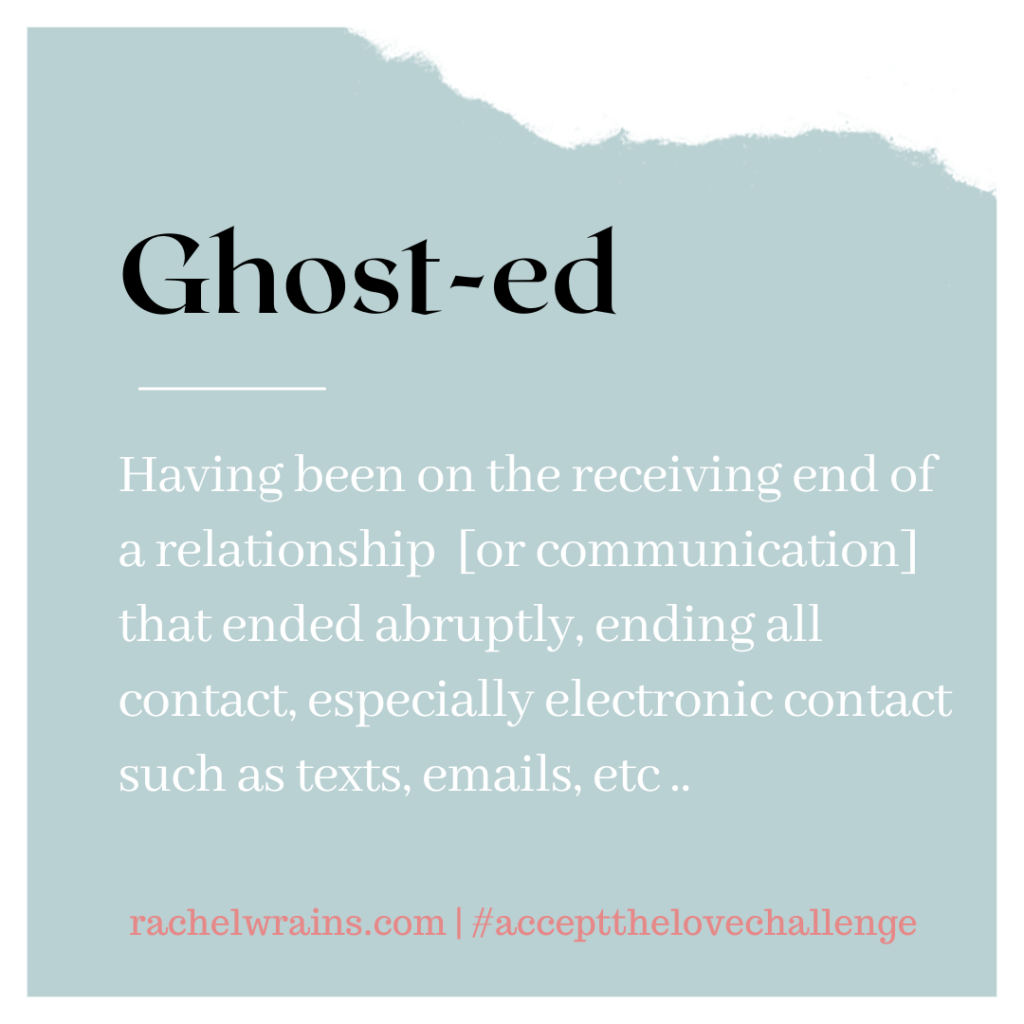 We've all been "ghosted" in some form or fashion in our lifetime, haven't we? Perhaps we've even ghosted a person or two ourselves? 
"Ghosting" occurs when someone suddenly cuts off communication with you without any explanation, leaving the "ghosted" person scratching their heads wondering, What went wrong!? Ghosting, in most instances, says more about the person doing the ghosting versus the one who has been ghosted. Ghosting is usually a passive-aggressive way of avoiding conflict or not wanting to "deal" with an awkward situation.
Whether it's a person you're dating, a friendship, a work relationship, or a person and/or relative you "do life" with, ghosting is unkind, to be sure! Not to say there aren't extreme situations where a safe distance is needed, but try your best to see others as God does—flawed, broken, and in desperate need of a loving Savior. 
"No good deed goes unpunished." Never did this statement feel more true, then recently, when I was the recipient of a ghosting. Although I understood where my actions were possibly misconstrued, the sting was hurtful, nonetheless. In the past, this sort of rejection would have "wrecked" me for days. But now, I just learn to see it for what it is—a broken, unlovable world in which extraordinary grace and the unfathomable love of God is so desperately needed.
"Seeing [others] is the most arduous thing a human being can undertake."* And as maturing believers, we can't love, what we do not see!
Here are a few tips for "the ghosted" and "the ghoster" alike.
1. Don't take the circumstances surrounding "the ghosting" too personal. Also, sometimes "allowing space" is the best remedy.
2. Assume "the best" of the other person. Even when proven wrong, be cautiously optimistic.
3. View the situation through a "lens of understanding."
4. Identify "the lies" of the enemy. He is out to destroy us, y'all! And that includes our relationships.
5. Search your own heart for motivators and indicators. What motivated my action or response? Is the emotion I'm feeling an indicator of something else that is going on in my life? Are my thoughts indicative of what I know to be true?
6. Pray about the situation. Ask God to reveal any wrongdoing on your part. Ask God to bless, heal, and reveal Himself to the person on the other side of "the ghosting."
7. Let it go. As they say, "Let go, and let God."
8. Offer an apology and/or forgive the other person. Forgiveness is a gift to the giver and a balm to the receiver.
9. Stay soft. Don't let the experience harden your heart.
10. Love [and see] the person with the heart of our Creator.
At the end of all the challenging circumstances life brings, remember, we're only responsible for the LOVE we bring.
"Search me, God, and know my heart; test me and know my anxious thoughts. See if there is any offensive way in me, and lead me in the way of everlasting." Psalm 130:23-24
Accepting The Love Challenge promises to be an arduous task, y'all!! How we "walk it out" in love, indeed, will be our greatest challenge.
Learn more about accepting the greatest challenge ever issued to mankind–loving an unlovable world by claiming your free mini-devotional, The Love Challenge: Overcoming the Struggle to Love an Unlovable World. DM me to join our #TLCcommunity where we discuss all things #acceptthelovechallenge.
Anthony DeMello, The Way to Love.