[How to Avoid] Being a Karen…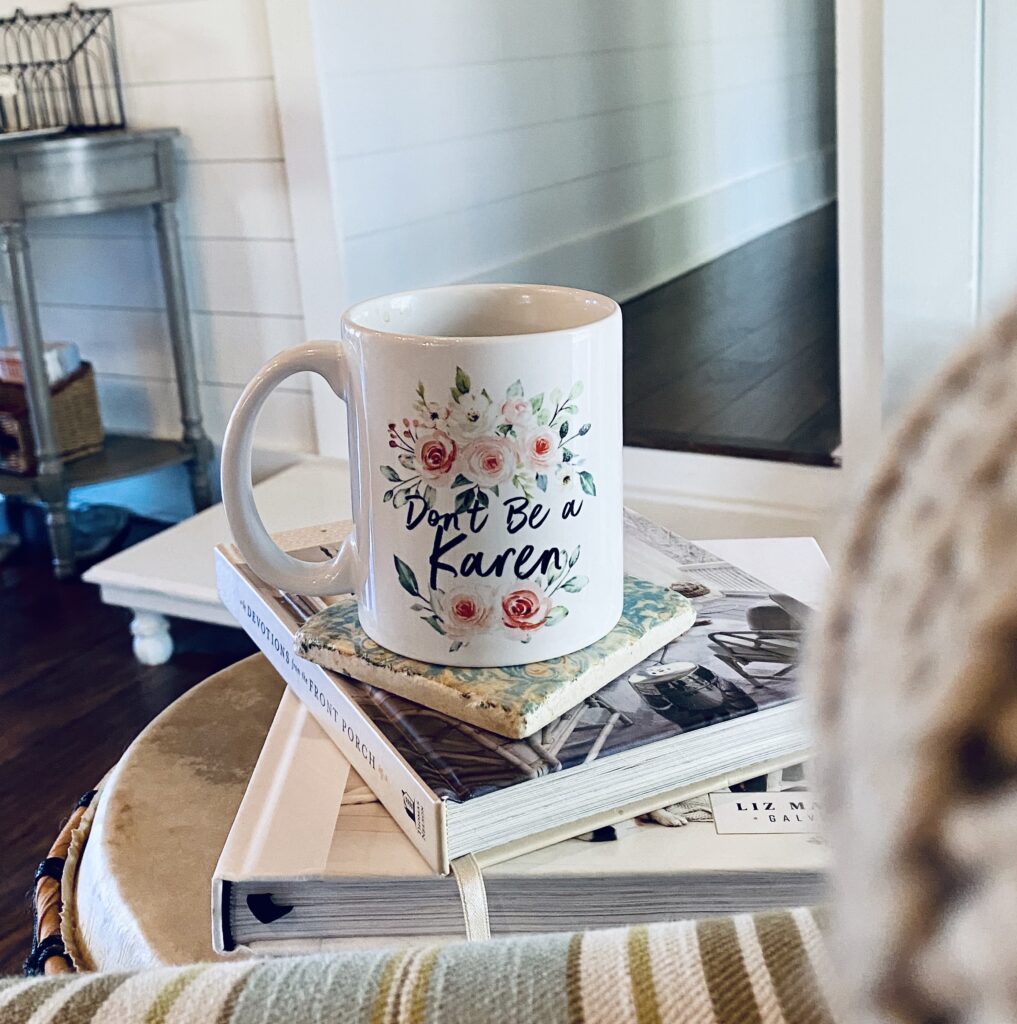 We've all been there right!? At one time or another in our lives, we created [or contributed to] a nasty scene of sorts. Therefore, creating a messy testimonial of our love for a loving Savior. My inner Karen is most often irritated by the indignity or injustice of a situation. So much so, I have an alter-ego my family has loving nicknamed Justice Girl. One wrong word from the transgressor of my emotions and out she pops. Sometimes, seemingly out of thin air!? 
In recent months, a beach coffee run quickly accelerated into a full-blown Karen moment* [well maybe I'm being a little dramatic] and in a Christian coffee shop nonetheless! 🤦🏼‍♀️ But it left me completely devastated, embarrassed, and ashamed. In the proprietor's comments were words that the enemy knew would pierce my heart. But behind the harsh words, I saw worry, stress, and fear in a small business owner's eyes in a covid-ravaged economy. And my inner Karen resolved to choose love and do better. So much so, I spent the better part of my last afternoon on the beach praying blessings over the shop owner.
The struggle to love a broken, unlovable world is real, y'all. Loving in the hard places is never easy—especially when you feel rightly justified. Or your pride has been injured. Compassion is a learned skill of a surrendered heart. As believers, we must approach an adversarial world with a spiritual maturity. A maturity that comprehends grace and mercy… 
"He has shown you, O mortal, what is good. And what does the Lord require of you? To act justly, to love mercy, and to walk humbly with your God." Micah 6:8
Struggle shapes, refines, and transforms our character. Our goal as maturing believers is to accept the love challenge set before us each and every day. Not to say, we won't fail. But that with each failure, we readjust our armor and head back out into the trenches armed with extraordinary grace and unfathomable love. Therefore, mirroring His image to a watching world. A world wondering "Is the Christian life any different?" 
Remembering who the real enemy is our first big step towards learning to love a broken, unlovable world in challenging times. And accepting the challenge to LOVE is the absolute, best way [I've found] to avoid being a Karen. Are you ready to accept the greatest challenge ever issued to mankind–loving a fallen, imperfect world full of messy, broken people? If so, meet me in the comments and say "I'm in." Perhaps, you have a particular love challenge that requires prayer? If so, message me. It would be my honor to pray for you.
"To be so FULL of God's Love, I no longer fathom speaking an unkind word or committing an unkind deed." That is my quest, join me!?
Accept The Love Challenge and start your own #tlcjourney by downloading your FREE three day mini-devotional, The Love Challenge: Learning to Love a Broken, Unlovable World in Challenging Times. Visit the link to also download your #tlcnavigationguide and reminder card. 
* a kind of person who is unhappy when small things don't go their way.