How to Cultivate a Life of JOY…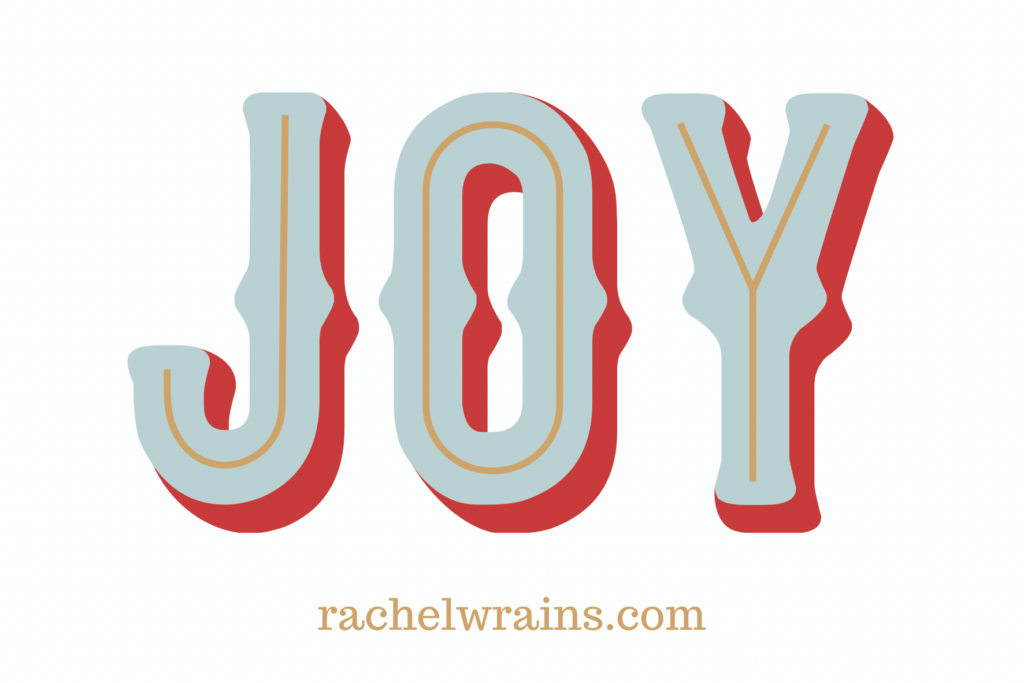 At the end of last year, I felt more joy-depleted than joyful. Life's circumstances had me feeling battered and bruised. But the testing of my faith produced long-lasting evidence of fruit in my life–of which I'm eternally grateful! Perhaps you've been there yourself? Or perhaps, joyless is an accurate depiction of your current circumstances? If so, allow me to offer some joy-filled truth for cultivating a life of joyous living.
Joy comes from having an intimate understanding of the unfailing character [and goodness] of God.
Everyday JOY is anything but ordinary in the believer's life. And is so much bigger than mere happiness. G. K. Chesterton says "Joy is the gigantic secret of the Christian." Real, unadulterated joy is an inner peace that is impenetrable by the outside forces of fleeting emotions, life's uncertainties, and enduring struggles. Joy isn't a natural state of being. Joy is a consciousness that is rooted in the richness and closeness of a deep relationship with our Creator. And the best news of all, true joy is available to all of us.
In the middle of the pandemic-riddled, racial-tension weary summer of 2020, I witnessed my sweet mama have two consecutive nights of heavenly conversations before she passed from this earth. The pure joy that radiated from her face that first morning as she awakened is something I'll never forget. The brightness in her eyes suggested glimpses of heaven. In the early morning hours of day two, she asked for a sip of water. As she handed the glass back to me, she cooed "Oooo… that tastes gooood." But it's the way she said it, I'll never forget. She savored that last, cool drink as if she had tasted something so unimaginably good it was otherworldly; like a lifelong thirst had just been quenched. And it was obvious, she had one loose foot on earth and one solid foot in glory!
"For all the gods of the peoples are worthless idols, but the Lord made the heavens. Splendor and majesty are before him; strength and joy are in His place." – 1 Chronicles 16:26-27
Joy is contagious and is the secret marketing tool of every Christian.
JOY expresses the evidence of God's goodness in our lives. As believers, when we tap into the "joy" that is unencumbered by life's circumstances, a watching world notices. And the Source of our joy becomes the fountain from which all who are thirsty wish to drink.
Simply, Christian joy is contagious and is the *secret* marketing tool of every Christian. Unbelievers desire the "inexpressible joy" that radiates from a joy-filled believer's life. And in the words of Mother Theresa, "Joy is a net of love by which you can catch souls."
In Luke 15:7, the author tells us "There will be more joy in heaven over one sinner who repents than over ninety-nine righteous persons who need no repentance." It was that same inexpressible, unimaginable joy of the first century believers that enabled them in the face of tremendous hate and persecution to influence culture, convert nations, and drive a movement which became known as Christianity.
How might you share the inexpressible joy and hope of a life in Christ Jesus with a watching world this holiday season?
"Though you have not seen him, you love him; and even though you do not see him now, you believe in him and are filled with an inexpressible and glorious joy, for you are receiving the end result of your faith, the salvation of your souls." – 1 Peter 1:8-9
Learning joy through trials and suffering builds [Godly] character.
Possessing peace that passes all human understanding, exhibits true JOY in the human condition. Often through the storms of life, Christ invites us to walk with Him on the water. And when we accept the invitation to trust His goodness, inexplicable joy abounds. It is only when we lose [our] focus on Christ and look down at the water, in disbelief, that we begin to sink. The joyful, abundant life of the believer is utterly dependent on the unwavering belief in the unchanging character and unfathomable love of God. And when our joy is found in Him alone, we invite others to taste [for themselves] and see that the Lord is good.
In the believer's life, joy and suffering often go hand in hand. [1 Thes. 1:5] Christ's joy was found in doing His Father's work–even in death! As believers, James 1:2 tells us, we are called to consider it "pure joy" when we meet trials of various kinds. And it is through these "troubled waters" others see not only the fount of our strength [Nehemiah 8:10] but the fullness of our joy.
"You make known to me the path of life; in your presence there is fullness of joy; at your right hand are pleasures forevermore." – Psalm 16:11
Choosing *joy* in the journey ~
Choosing a word to focus on for the upcoming year(s) has been life-giving to me in so many ways over the years. I've even been known to choose two words at the prompting of the Holy Spirit. My "joy" in 2022 was often found through listening to His gentle voice leading me, but very often it was found in my "obedience" to all He asked of me.
Thank you, friends, for accompanying me on this joy-filled journey! My hope [and prayer] as you reflect on cultivating a life steeped in JOY, is this:
"May the God of hope fill your heart with all joy and peace as you trust in Him through the power of His Holy Spirit." – Romans 15:13
Do you regularly choose a #woty? How does God reveal what He wished to cultivate in your life through your #wordoftheyear? As always, I'd love to hear.