How to BE LOVE in a [Not-So-Perfect] Barbie World…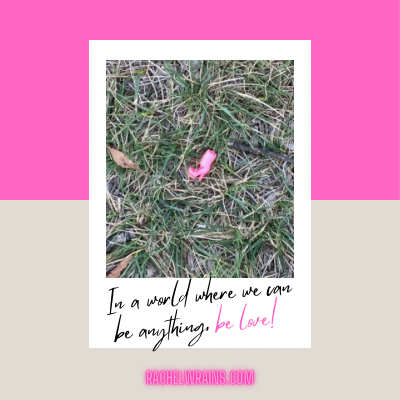 I snapped this photo of a wayward, perfectly pink Barbie shoe as I walked into my Bible study in Nashville—four summers ago. And I've kept it on my phone, all this time?! What can I say, it spoke to me. I guess because I'm still a Barbie girl at heart.
As a young girl, Barbie allowed me to explore a world bigger than my own growing up in Hometown, OK. In the mid-to-late 90's, I watched as my daughter expanded her own little world through the Barbie enterprise. I can still see Barbie swimming across the computer screen in her pink-and-purple scuba gear as my daughter navigated her every move with the click of a mouse. The innocence of a child at play is a beautiful thing.
The core message of Barbie is "You can be anything." Barbie isn't the labels the world has unfairly slapped on her. She is fearfully and wonderfully made. She was made for good works. Barbie is me—and you, my dear friend. We're all Barbie girls longing for a perfect Barbie world, but temporarily LIVING in a messed-up, broken one!
So, who do we want to be in this world? I say, If we can truly be anything in this life, let's be love!
Love clothes herself in compassion, humility, gentleness, and patience. LOVE is her basic, all-purpose outfit. And she never leaves home without it.*
So, how can YOU get started on a Barbie adventure of being love? I'm so glad you asked because I created a free mini-devotional, The Love Challenge: Loving a Broken, Unlovable World One Challenge at a Time just for you. Tap the link to download your free gift.
Also, I'd love for you to join me in the #TLCcommunity where each new year we study what God's Word has to say about being love, wearing love, giving love, and sharing God's love in a not-so-perfect world. Tap the link to join: Hope to see you there! 💕
"So, chosen by God for this new life of love, dress in the wardrobe God picked out for you: compassion, kindness, humility, quiet strength, discipline. Be even-tempered, content with second place, quick to forgive an offense. Forgive as quickly and completely as the Master forgave you. And regardless of what else you put on, wear love. It's your basic, all-purpose garment. Never be without it. – Col. 3:12-14
Side note: 💞 Although Barbie, the live-action movie, had a couple of things this Barbie fan could have done without. Overall, I thought the movie was smart–and funny! It's definitely not a movie for kids, but for the one who is forever a Barbie girl at heart.
Have you seen the movie? Are you a Barbie fan? If so, I'd love to hear. Let me hear from you in the comments. 💕
adapted from Col. 3:12-14 [MSG]
Sent from my iPhone